LinkedIn, the world's largest professional network, has released its annual list of Top Companies for the UAE and Saudi Arabia.
Produced by the LinkedIn News team and fueled by LinkedIn data, the list is a guide for professionals at any stage of their career, whether it's the ones planning to change paths, those who are jumping back into the workforce after a hiatus, or even individuals seeking to enhance their skills.
In its largest iteration yet, this year's Top Companies list launches across 39 markets. The methodology looks at various pillars including how employees are advancing both within a company and when they leave, how they're upskilling while employed, and how companies are empowering people to get ahead in their careers.
Given the global decline in hiring and economic uncertainty that businesses are grappling with, highlighting these employers will help professionals understand which companies have invested in making their workplace an ideal environment for talent to thrive.
Key trends observed from this year's Top Companies list:
Ascent of FMCG and retail companies in the UAE

2023 rankings for the UAE highlight the growth of prominent FMCG companies such as Procter & Gamble, Majid Al Futtaim, and Henkel. Both P&G and Henkel have secured a place in the rankings for the first time, while Majid Al Futtaim has soared from the 13th place in 2021 to claiming the 4th place this year.

Public sector grabs top spots in Saudi Arabia

While Saudi Arabia has made considerable progress towards diversifying its economy, the Kingdom's oil and gas sector maintains its power with Saudi Aramco retaining its position as the country's top company for the third year in a row.
The following two spots also feature prominent government-backed entities, with Red Sea Global making its debut appearance, followed by telecommunications provider stc.

P&G holds court in the region

Multinational corporation Procter & Gamble, which specializes in a wide range of consumer products including personal care, cleaning agents, and pet food has made a noteworthy appearance in both UAE and KSA, indicating a strong foothold in the GCC and commitment to empowering career growth for employees across markets.
Lynn Chouman, Managing Editor at LinkedIn News MENA said, "This year's list is an indication that the world of work is still undergoing enormous change, and it is interesting to see how quickly our markets are evolving with 75% new entrants in the 2023 Top Companies lists for the UAE and Saudi Arabia.
Chouman continued, "This is a testament to the dynamic nature of the modern workplace and how the top industries are growing alongside market trends. Our data recognizes companies that have remained an employer of choice in the midst of global uncertainty, while acting as a valuable resource for professionals seeking the best places to work in the region."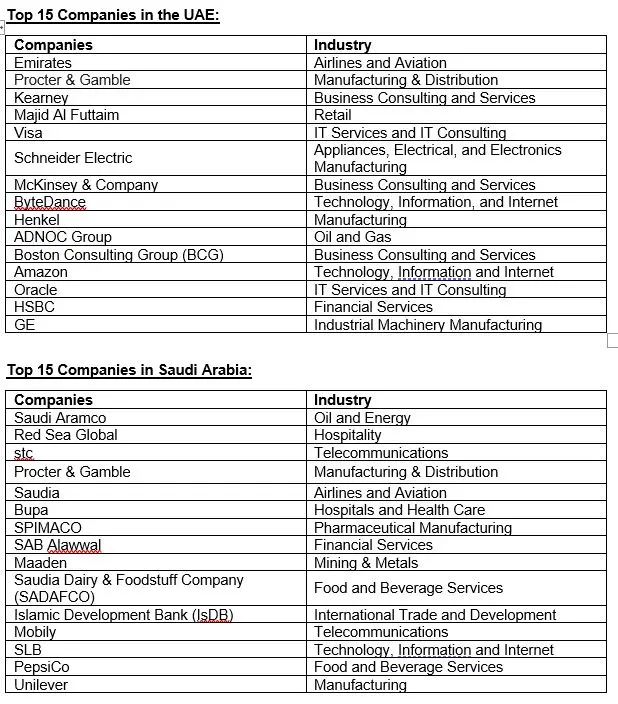 Methodology
Our methodology uses LinkedIn data to rank companies based on eight pillars that have been shown to lead to career progression: ability to advance; skills growth; company stability; external opportunity; company affinity; gender diversity; educational background and employee presence in the country. Ability to advance tracks employee promotions within a company and when they move to a new company, based on standardized job titles. Skills growth looks at how employees across the company are gaining skills while employed at the company, using standardized LinkedIn skills. Company stability tracks attrition over the past year, as well as the percentage of employees that stay at the company at least three years. External opportunity looks at Recruiter outreach across employees at the company, signaling demand for workers coming from these companies.
Company affinity, which seeks to measure how supportive a company's culture is, looks at connection volume on LinkedIn among employees, controlled for company size. Gender diversity measures gender parity within a company and its subsidiaries. Finally, educational background examines the variety of educational attainment among employees, from no degree up to Ph.D. levels, reflecting a commitment to recruiting a wide range of professionals. Finally, employee presence in the country looks at the company's number of employees in the country relative to other companies, as a means of capturing companies that provide a diverse work environment and more opportunities for career advancement and networking.
To be eligible, companies must have had at least 500 employees as of Dec. 31, 2022 in the country and attrition can be no higher than 10% over the methodology time period, based on LinkedIn data. Similarly, companies with layoffs that amount to more than 10% of their workforce, based on public announcements between Jan. 1, 2022 and the list launch, are also ineligible. Only parent companies rank on the list; majority-owned subsidiaries and data about those subsidiaries are incorporated into the parent company score. The methodology time frame is Jan. 1, 2022 through Dec. 31, 2022. This analysis represents the world seen through the lens of LinkedIn data, drawn from the anonymized and aggregated profile information of LinkedIn's members around the world.
We exclude all staffing and recruiting firms, educational institutions and government agencies. We also exclude LinkedIn, its parent company Microsoft and Microsoft subsidiaries.
About company insights
*Company insights were sourced from LinkedIn Talent Insights and include the parent company and majority-owned subsidiaries. Data reflects aggregated public member data from active LinkedIn profiles in the relevant country and includes employee profiles associated with the parent company and majority-owned subsidiaries on LinkedIn. We exclude members who identify as interns or contractors. All insights reflect a 12-month time period looking back from January 2023. Skills data was derived from measuring the most frequent unique skills among a company's employees, relative to other companies. Most common job titles represent the occupations that are most common within each company. Largest job function measures the function area most prevalent within each company.
About LinkedIn
LinkedIn connects the world's professionals to make them more productive and successful and transforms the way companies hire, learn, market, and sell. Our vision is to create economic opportunity for every member of the global workforce through the ongoing development of the world's first Economic Graph. LinkedIn has over 900 million members and has offices around the globe. www.linkedin.com / mobile.linkedin.com