Amazon Payment Services, a regional leader in digital payments across the Middle East and North Africa (MENA) region, shares research on the spending preferences of those born between 1997 and 2012, known as Generation Z (Gen Z). The white paper, "Understanding Generation Z," compares the spending preferences of Gen Z with that of other generations, such as those born between 1981 and 1996, otherwise known as "millennials", and discusses the influence of Gen Z as its spending power grows. Based on research conducted by Sixth Factor Consulting, and sponsored by Amazon Payment Services, insights from the research are provided in the second white paper published on the 're:Imagine Payments' thought leadership forum, which aims to help merchants and those interested in digital payments gain knowledge about the space.
Peter George, Managing Director for Amazon Payment Services in the Middle East and North Africa (MENA), said: "The Gen Z demographic has immense potential to drive future business growth for merchants, making it an important customer segment for businesses to secure. The analysis in this paper presents Gen Z's attitudes toward digital payments covering also other relevant industry topics in MENA, can be used by merchants to connect effectively with this audience, in order to drive healthy, and sustainable growth."
The white paper presents research from surveying over 1,800 respondents across the United Arab Emirates (UAE), Saudi Arabia (KSA), and Egypt.
George also said: "Earlier this year, we launched the 're:Imagine Payments' forum to create a space for collaboration among existing and potential partners to engage, explore, and establish new solutions together. This white paper comes in line with our goal to share insights on industry trends across different audiences, promoting knowledge-sharing to support growth and innovation in the regional payments sector."
Merchants in the region can utilize the findings of the "Understanding Generation Z" white paper to explore this demographic's preferences and underlying motivations, in order to authentically connect with Gen Z and secure future success, by delivering to their emerging needs.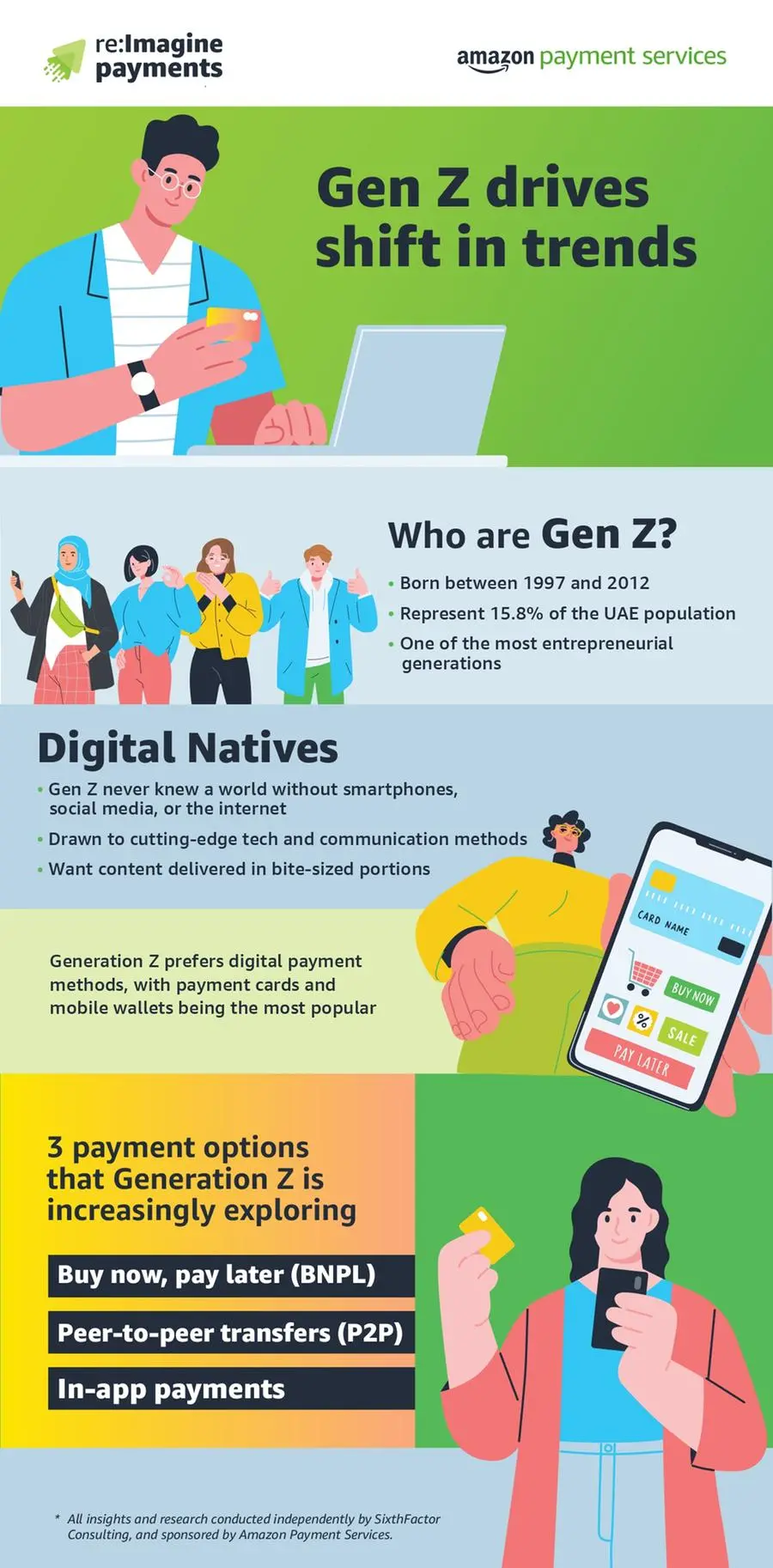 More than half of research respondents prefer paying digitally
Gen Z members are tech-savvy, which impacts their attitude toward payments. Research showed this demographic prefers digital payment methods, with payment cards and mobile wallets being the most popular.
Those surveyed said they thought Buy Now, Pay Later (BNPL) options are a convenient way to pay for big-ticket items. Zero interest, lack of paperwork, and lightening the pressure on the pocket are the reasons driving interest for this payment method among Generation Z.
In all three countries, the vast majority of respondents were aware of peer-to-peer (P2P) transfer apps, with awareness as high as 92% in Egypt, driven by the early availability of the national Instant Payment Network. The majority of respondents across UAE, KSA and Egypt claim to have conducted a P2P transfer using an app or another method at least once.
The research also found high awareness of in-app payments; however, respondents suggested that this method is competing with other commonly used payments methods, and that merchants should consider using discounts to steer more purchases toward mobile apps.
One category of in-app payment that was welcomed by respondents was super apps. Respondents said that super apps,currently available in AE, were particularly convenient, leading to high awareness and take-up.
Personalization over privacy
Gen Z members say they prioritize personalization over privacy. The study found that Gen Z is less concerned about data-sharing than previous generations, and they are willing to share their data if it provides them with a better shopping experience.
One Gen Z survey respondent said: "I am aware cookies track down the websites I visit and target advertisement towards me as per my taste and choice. [But] I get relevant content on what would interest me, making my online experience more personalized."
Millennials who took the survey, however, expressed more concern about data-sharing. One millennial respondent said: "I am very careful and reluctant in sharing my data, I feel unsafe and prefer to only click on websites I know. Even on known websites, I do not share my information."
Underlying motivations driving behaviour
To successfully reach Gen Z, businesses must understand not only their quantifiable behaviors but more importantly their underlying motivations.
As the first generation of digital natives, Gen Z have never known a world without smartphones and the internet, unlike the digital immigrants who preceded them.
This has exposed Gen Z to various global issues very early in life due to their behavior as heavy users of social media, embedding a deep sense of social responsibility which shows up in their choice of brands and workplaces. To gain favor with Gen Z, businesses must understand their values and priorities and develop a matching corporate social responsibility strategy.
Gen Z is also one of the most entrepreneurial generations, especially in the Middle East. This entrepreneurial mindset is motivated by the underlying desire for financial independence.
As a result, offering loyalty programs and reward schemes that emphasize affordability, and showcasing financial planning as an attractor to newer payment methods will be beneficial for businesses targeting Gen Z.
In order to effectively target Gen Z, businesses need to understand this demographic. "Understanding Generation Z" delivers insights into the way Gen Z thinks. This will help businesses build their businesses in a way that appeals to this unique, complex, and dynamic generation and seize future opportunities.
For more information, please visit: re:imagine Payments.
Amazon Payment Services is a regional leader in digital payments operating across the Middle East and North Africa (MENA) region with a mission to empower online businesses through a simple, affordable, and trusted payment experience. Designed to enable businesses to unlock and optimize their online presence, Amazon Payment Services provides secure digital payment services and solutions that are easy to use, including tokenization technology, local payment methods, third-party services such as advanced fraud tools, instalment plans such as Buy-Now-Pay-Later, digital wallets, and reporting APIs, as well as cutting-edge consumer payments insights.
For more information on Amazon Payment Services, please visit paymentservices.amazon.com and follow us on Twitter, Facebook and LinkedIn.