Dubai International Chamber, one of the three chambers operating under Dubai Chambers, has announced details of several notable achievements during the first six months of 2023 in attracting foreign direct investment and supporting chamber members in their efforts to expand into global markets.
The chamber succeeded in attracting a total of 56 businesses to the emirate during H1 2023, including six multinational corporations and 50 Small and Medium-sized Enterprises (SMEs). It also supported the expansion of 15 local and national companies into global markets, either by increasing their exports or helping them to establish a presence abroad.
During the first half of the year, Dubai International Chamber inaugurated six new international representative offices in Hong Kong, Australia, the United Kingdom, Indonesia, South Africa, and Singapore. The openings brought the total number of international offices at the end of H1 2023 to 21, located across Africa, Latin America, Eurasia, India, China, Europe, Southeast Asia and the Middle East.
The new offices come as part of the drive to achieve the goals of the Dubai Global initiative, which was launched by His Highness Sheikh Hamdan bin Mohammed bin Rashid Al Maktoum, Crown Prince of Dubai and Chairman of the Executive Council of Dubai. Led by Dubai International Chamber, the initiative seeks to establish a powerful network of 50 representative offices for Dubai across five continents by 2030.
Sultan Ahmed bin Sulayem, Chairman of Dubai International Chamber, commented: "We remain committed to achieving our strategic priorities of attracting foreign direct investment to Dubai and supporting our members' trade and expansion into international markets, in line with the objectives of the Dubai Economic Agenda (D33). Dubai International Chamber is working to consolidate the emirate's position as a leading global hub for business and investments in accordance with the vision of the wise leadership."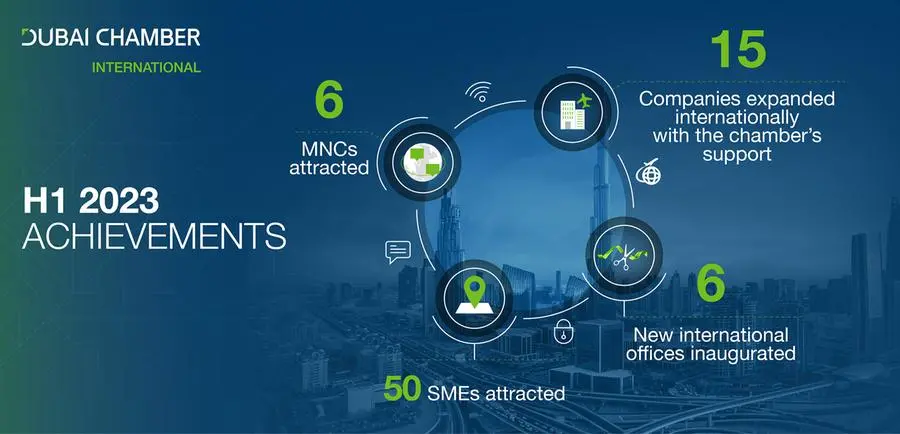 "Dubai is one of the world's fastest-growing economies and offers a diverse business environment that is rich in opportunities across various sectors. We will continue to work to attract international businesses, investors, and global talent to the emirate, as well as supporting the expansion of Dubai businesses around the world," he added.
Dubai International Chamber intensified its efforts to support Dubai-based companies in their plans for global expansion with the launch of the 'New Horizons' initiative. Aimed at identifying and capitalising on partnership opportunities, the initiative arranges specialised trade missions that enable Dubai-based companies to visit targeted global markets. Participants in these roadshows can explore investment opportunities and prospects for joint economic partnerships through a series of pre-arranged events and business meetings.
The chamber successfully arranged more than 550 bilateral business meetings during H1 2023 as part of the New Horizons initiative, connecting companies and investors from Dubai with their counterparts in Central Asia, London, and South Africa.
Dubai International Chamber is focused on boosting Dubai's status as a major global trading hub. The chamber supports Dubai's vision of expanding into new global markets, forging economic partnerships, and supporting local companies in achieving global success, while also attracting international talent and investors from around the world. Dubai International Chamber is targeting 30 international markets of strategic importance to Dubai through its growing network of international representative offices.