The global beauty industry continues to gain momentum each year, with an increasing proportion of sales taking place online. According to the Admitad partner network, global sales in the beauty and self-care industry grew by over 15% in the first half of the year, with online orders in the MENA region experiencing a YoY increase of more than 20%.
To prepare this report, Admitad analyzed the sales of 450 brands worldwide and 185 MENA brands, including such well-known companies and marketplaces as Sephora, Alibaba, iHerb, Lancome, Yves Rocher, ICI Paris XL, BABOR, Loccitane, Clarins, Calvin Klein, Kiehl's and many others. The calculations are based on more than 6.5 million orders worldwide and more than 400,000 orders in the MENA region, that were generated by network partners for beauty brands and retail sites.
MENA is back on beauty track
The growth of online sales of beauty products in the world is strong but moderate. Admitad calculates that the number of global online sales grew by 11% in 2022, and in the first half of 2023 the growth has already hit the mark of 15%. GMV is up by 8% and by 12% respectively.
While MENA's buying activity in the beauty industry saw minimal growth in 2022, the first half of 2023 witnessed a rapid catch-up, even surpassing global activity levels. The number of beauty orders grew by 20% and the amount MENA shoppers are willing to spend on cosmetics and self care rose by 5%.
The average order value for online beauty product sales in the MENA region has slightly decreased, hovering around 92 USD. Two countries in the region, UAE and Saudi Arabia, claimed top spots on the list of countries with the highest order values in the beauty industry.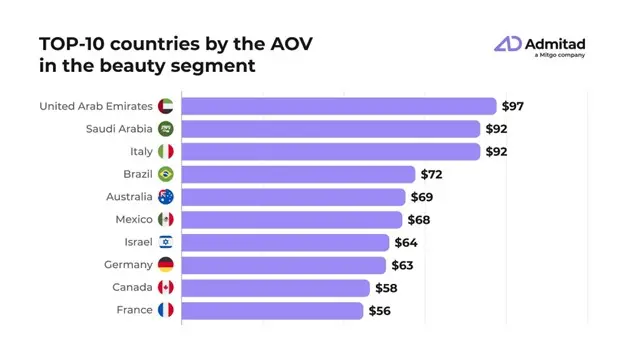 The source of beauty hunters
In 2023, the dominant keywords in online shopping for beauty products are "benefit" and "smart shopping". Therefore, Admitad calculates that coupon and cashback purchases rank high worldwide. However, the recommendations of influencers and content creators still faithfully generate orders for beauty brands – their share in the total number of orders is also significant.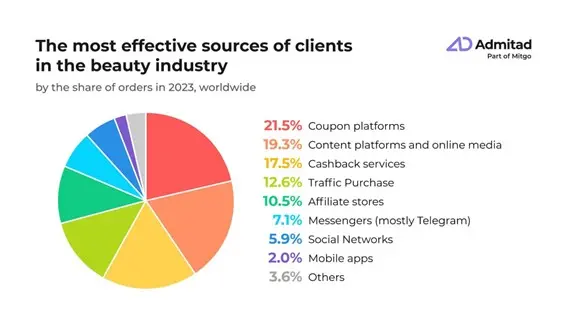 Interestingly, on average, global orders for beauty products from Google contextual ads grew by more than 30% in 2023. Messengers, especially Telegram, also achieved remarkable sales growth in this segment, with the number of orders through them more than doubling. Sales from Affiliate stores increased by 45%.
Marketing trends in the beauty industry in MENA are closely following global ones, although the role of affiliate stores in the country is higher – this source of traffic in 2023 attracted several percent more local purchases than the global average. Their influence continues to grow – orders through this channel have increased by more than 30% year-over-year.
Another unique trend among local shoppers is purchases based on recommendations in mobile apps, accounting for more than 5% of local purchases. Their number doubled over the year, which confirms the rapidly growing mobile audience in the beauty industry.
Content platforms were also among the record holders in terms of influence growth, with sales based on recommendations from articles and banners on media websites growing by more than 10% over the year.
MENA residents haven't forgotten to avail discounts when making beauty purchases. In 2023, they increased their use of coupons by 15%.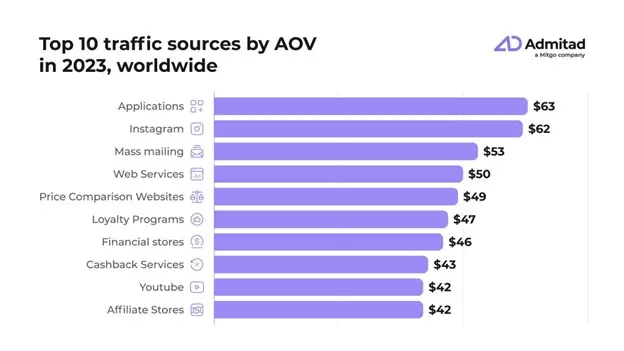 The mobile frenzy
The share of mobile sales in the global beauty industry in 2023 already stands at a staggering 46% and continues to grow (in 2022, the share of mobile sales was 44%).
For MENA's beauty industry, mobile sales are still a growth point – in 2023, only about 25% of all beauty and self-care purchases were made from cell phones. The region is catching up with a global trend, and this is a great chance for local brands to compete for the growing mobile audience.
Forecasts are positive
Both global and MENA figures clearly indicate that online sales in the beauty industry will continue to grow. According to Admitad experts, 2023 may end even more positively for MENA beauty brands than the successful 2022. It is highly likely that the increase in their online sales for the entire year will reach up to 23%.
Businesses should pay attention to the most effective traffic sources and those customer acquisition channels that show growth or have the highest average order value. This approach will help them not to miss trends and increase not only the number of orders, but also improve other important business indicators.